Finding Inner Mastery in the Azores
What if a few days away changed the course of your entire life?
Join us in São Miguel, Azores Islands, Portugal
April 22nd through April 27th (6 days)
For men and women interested in growth and well-being
Would you like more fulfillment in life, through your own efforts? And would you appreciate a supportive, inspiring experience to help you on your path? Perhaps you also want a few good friends or a community focused on personal growth and mutual support.
Your life may be filled with accomplishment, but you know it is possible to more fully enjoy and cherish your efforts and success. You want to more fully achieve your true potential. This is true for all of us!
Can you imagine waking up in the morning feeling optimistic, and knowing how you are advancing to achieve your dreams? And feeling that you are not alone in your efforts.
If you can feel time advancing and you want to take a step for greater richness in life and greater fulfillment, then...
We've got something for you.

*** YOU DID NOT LAND ON THIS PAGE BY ACCIDENT ***

We don't believe in total coincidences, and if you're
feeling pulled to try something new, this could be it.
We invite you to take time to honor yourself in the sacred power of the natural world, where you will learn the ancient art of establishing daily practices that help you transition to a life of living fully and thriving!
FEEL AGAIN… BREATHE AGAIN… TAKE TIME FOR YOU.
Immerse yourself in one of the world's hidden wonders of nature, an island where lush greenery is the backdrop to beaches and clear blue waters.  Where volcanic lakes provide healing thermal water and hot springs… where whales and dolphins swim nearby… where nature provides the ultimate backdrop for you to reconnect to your soul and rejuvenate your life.
Give yourself the gift of renewal.
That renewal begins with this Inner Mastery Adventures retreat!
Imagine yourself releasing the stress of daily life as you connect with like-minded individuals who are all on the vital path to refilling their heart and spirit.
Your days will be infused with personal reflection, intimate, transformational group sessions, mindfulness, and immersion into the glorious beauty of São Miguel.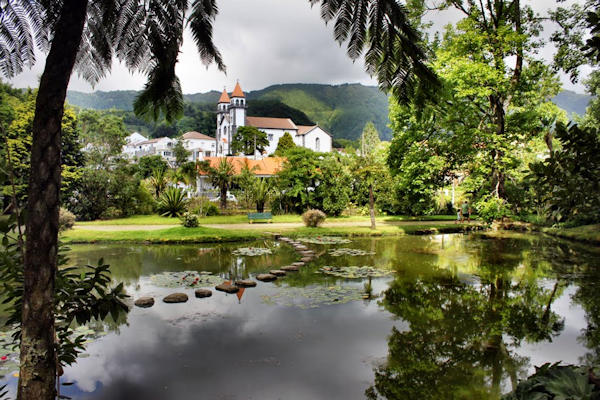 Join your guide Tildet Varon, assisted for the first time by David B. Alexander; they are leading experts on personal transformation.
Tildet is an Inspirational Speaker, Inner Mastery Specialist, and Author who will help you to connect with your authentic self, and eliminate the challenges that you feel are holding you back from your dream life.
David is an Insight and Energy Specialist, and will be assisting and co-leading with Tildet during the retreat. David has lifelong experience with studying and teaching meditation, Tai Chi Chuan, and for the last six years, with intensive training in mind / body therapy methods.
And São Miguel is an award winning 'green holiday destination' that will envelop you in its beauty and transform you with its natural energy.
FIND YOUR PURPOSE as you transform into your truest self–your destiny is waiting to be unleashed as you connect with the sacred power of the earth.
Tildet has mastered the art of creating a life of success, self-awareness, and peace–the art of a life that embodies both spiritual and financial freedom.  She has helped hundreds of people to grow, to be inspired, and to reinvent their lives, and thousands of people through speeches and group work.
And we created this event to show you how to do it too!

AWAKEN. CONNECT. THRIVE.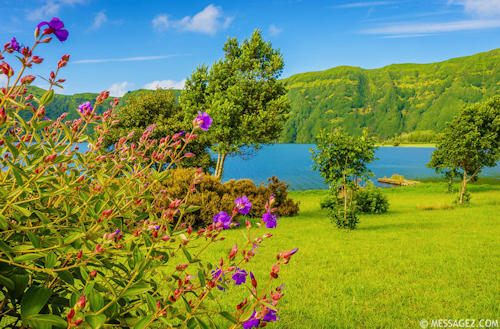 São Miguel, Azores Islands, Portugal
Ponta Delgada airport
Terra Nostra Garden Hotel
Private van transport & English speaking guide from airport to hotel included
Your retreat includes a daily combination of:
Awakening practices
Nature and water therapy
Healing through meditation
All meals except three included
(so you can experiment)
Local or hotel dinner options
Exercises to release energy blocks
Connection with the natural world
Daily excursions to inspiring sites; all fees included
Day 1: Arrival Day - Sunday
Please arrange your flights so that you can arrive at the hotel by 5pm, where you will be welcomed by your hosts.
Evening: Hot Spring water swim / therapy
Evening Circle and Energy Ritual
Day 2: Be Aware of Your Self - Monday
Awakening Class: Who are You? What do you really need? Where do you go from here? This is power and clarity being revealed for you.
Excursion: Nature Walk Terra Nostra Park Botanical Garden (entrance fee included).
Famed English gardens, green lakes, basalt caves, winding pathways and exotic flowers will surround you. You will stroll around beautiful Furnas Lake.  We'll continue to the hot springs which originate from volcanic activity, where you can also observe volcanic fumaroles used as natural stoves to cook the famous cozido in the ground.
Evening: Hot Spring water swim / therapy
Nightly Group Circle
Day 3: Release Your Blockages - Tuesday
Awakening Class: What and where are your blocks? How can you release your non-productive fears, and that which holds you back? This is a deeply revealing class that will allow you to release toxic patterns and limiting beliefs. You will leave feeling lighter, your energy channels finally open for receiving abundance, love, health and miracles!
Excursion: An amazing must-see sight: Vista do Rei Belvedere which includes a breathtaking view of the lakes and parish of Sete Cidades, both located inside a massive volcanic crater. While descending to the inside of the crater we'll stop at Santiago viewpoint to observe Santiago Lake and visit the picturesque Sete Cidades Village.
The tranquility of the waters and the sweetness of the hydrangeas and azaleas, which border the crater rim and contrast the steep sides of the crater, create a fascinating sight. As we return to Ponta Delgada we'll make a stop at the pineapple plantations. Then free time to explore the cobbled street of Ponta Delgada.
Evening: Hot Spring water swim / therapy
Nightly Group Circle
Day 4: Mastering the Body - Wednesday
Awakening Class: Inner Mastery of your emotional and thought processes. A client favorite, this class will help you to master the art of mindfulness, a gift that can raise your awareness so that you enjoy a positive, abundant and inspired experience of life: one that overflows with the blessings you most desire.
Excursion: Half-day Lagoa do Fogo Tour, or "fire lake", which is in the center of a volcano!  We'll travel to the city of Ribeira Grande, the center of the baroque art movement in São Miguel. Continue on the north coast with a stop at Santa Iria and the tea factory of Gorreana, where you can sample teas. We will discover the west part of the island, known for its tales and beauty. A final stop in Pico do Carvao provides a magnificent panorama over both the north and south coasts of the island, as well as the central part of the island.
Evening: Hot Spring water swim / therapy
Nightly Group Circle, and creation of our positive affirmations list
Day 5: Retrieving your Gifts, Creativity and True Self - Thursday
Awakening Class: The vision of your meaningful Life.
The manifestation of your dream life depends on the power of your vision. Learn the proven tools for creating a vision, holding that vision and ultimately making it a reality through aligned intention and action!
Excursion: We are planning to offer whale and dolphin watching; this part of the ocean is a prime area for observing whales and dolphins. This activity does depend on the weather, and we will plan an alternate activity if weather is not compatible with the whale and dolphin watching.
Here is some information:
Lying in the Atlantic Ocean, about a third of the way between Portugal and North America, the Azores Islands are a permanent home or point of passage for more than a third of the world's whale and dolphin species. Sperm whales, common dolphins, bottlenose dolphins and Risso's dolphins are present around the Azores archipelago throughout the year. Other species visit or pass by during specific seasons so that our sightings vary a lot during the year and often from day to day!
Evening: Awakening Class: Action plan to create your ideal life
Nightly Group Circle, and experiential movement / dance exploration
Day 6: Departure Day - Friday
Closing Ceremony (ends by 12 noon)
Return with a new awareness, an inspired vision and a deep and beautiful passion for living.
Here's the truth:

Renewal requires occasional retreat.
As you become aware of a deep desire for change, you've got to honor that call.
With the distractions of our daily lives, it's difficult to truly nurture our own inner mastery.
You've got to place yourself in a restorative atmosphere, away from your daily obligations, stress triggers and responsibilities in order for clarity, guidance and change to manifest.
This luxury retreat was created to be a deeply transformational journey that will allow you to quiet the chatter of your mind, escape the distractions of your life and finally tune into what your heart really wants.
It is in that moment of quiet retreat that our intuition finally comes through and clarity is at last revealed.
Begin your journey of inner mastery today!
TOGETHER WE WILL FIND THE ANSWERS YOU'VE BEEN LOOKING FOR.

Five full days in Paradise.

Five full days of deep, revealing, soul-connecting transformation.

Five full days to change the rest of your life!
YES! I'm coming to São Miguel! I'm ready for a true adventure...
Read on to learn more about the remarkable impact Tildet's work has had on the lives and careers of her clients.
Through the last five years, Tildet has been a beacon of light in my life. She is a wonderful teacher, an inspiration and has a compassionate heart which resonates out to all.

I just recently had an experience with doubting myself for an opportunity to change my job. Tildet helped me to see the qualities that I had, and changed the mind set that was keeping me from the confidence that I should have had all along. I was keeping myself back.

Well I am happy to say that I got the job, which is a promotion. I never thought it was going to happen, but with Tildet's help, it did. On my journey of life, Tildet has enriched and inspired me. I am truly grateful to her and am changed for the better... I love you Tildet.

- Donna S.
I'm so grateful that we met. I have accomplished so much during the four months that you've been consulting with me. I've been in business for more than 40 years, and, as a direct result of your sharing your wisdom with me as my life facilitator, my monthly revenues have increased by 50 percent!

Your assistance in all other aspects of my life have had a profound impact on me: better relationship with my wife, healing my body, living more joyfully, and more. Although each person is responsible for their own success, you are the catalyst in my business success and personal well-being.

- Stephen L.
It actually changed my perspective on a lot of things like, what's there to be stressed over when there are so many things to be happy about. I give 10/10 for Tildet, she was my favorite speaker.

You exceeded all of our expectations! The class was incredible and very inspiring. They say some people are "white light" meant to be on this earth to inspire others. You are truly one of those people!

- Maureen C.
I've tried meditating with different teachers through the years and it never worked for me – I couldn't do it – until I met Tildet. Tildet's just different, she meets you where you are and helps you develop a practice that works for you.

I've been meditating with Tildet weekly for about 8 months now and look forward to it every week. Thanks to her, I also meditate regularly on my own. Though my practice has a lot of room to progress, I find it remarkable how much peace and clarity it already brings me. Tildet is a very special teacher.

- Janice H.
I am working fewer hours and spending more quality time with family and friends. Amazingly I'm getting the job done. In fact my boss tells me she has seen tremendous growth in me this year and in my confidence at work. I even had the highest production numbers in the office this past month... I feel strong and very much in control!

- Kathleen L.
A personal message from Tildet
Welcome to your transformation! I am so glad that you are here. I have spent many years helping thousands of clients and group participants work on a variety of issues including:
Health problems that develop from stress, and the resulting feedback loops as well
Feeling overwhelmed and unable to process or cope
Lack of energy and loss of motivation
Financial stress and frustration
Guidance back to reconnecting with your unique gifts to create a purpose-driven life
Finding freedom and fulfillment while contributing to the world
Awakening to find the path of inner peace and joy
Releasing your artistic expression
Now it's your turn! We know that you work hard.
I know that many of you give to everyone else before you give to yourselves. We are so happy that you are feeling called to awaken your spirit and get back to living the life that you deserve, that you are feeling called to take time to honor your own needs… that you are ready to participate in your success, and fully enjoy your life!
I know what it's like to feel stuck; to feel like life has not yet turned out the way you expected; to feel that there is more and that you want to reach for it.
I've been where you are.  The details of our individual stories are different, but the outcome is the same. I am a successful woman who came from a business background, suffered significant adversity, and through the ability to connect with the natural world as a pointer to my own inner resources, found an awareness that allowed me to experience an extraordinary shift in my life.
I want to share with you the same steps I took to find peace and fulfillment again.
I want to show you, through intimate and powerful sessions and adventures, how the energy of a place as magnificent as São Miguel can become embodied in your own life, allowing you to blossom like the island itself.  Transform your feelings of being overwhelmed, into feelings of abundance and well-being!
The wait is over.
It is your inner voice that brought you to us here, now trust yourself, and trust that the Universe has delivered you to this point to fulfill your journey so that you can live without limits.
Give this gift to yourself.
Until we meet again in the natural wonder of São Miguel,

Remember: EVERY excursion is included in your registration price. You will fill five days with a lifetime's worth of adventures.

Yes, investing in yourself is uncomfortable, but what's more uncomfortable is continuing on an uncertain path, missing out on the joy that life has to offer you.

This is an investment in your happiness. It's worth it. YOU are worth it.

See you in paradise!
About São Miguel
Situated off of the coast of Portugal, and known as "The Green Island", São Miguel is the largest and most populated island of the Azores Islands.  Diverse scenery, beautiful lakes, sandy beaches, rolling hills, high mountains, green plains and blue oceans are all waiting for you to explore!
"In this island, which can be easily called Heaven on Earth or Paradise, I have found timeless natural beauty and and timeless heritage sites." – Sivan Askayo, a New York-based travel photojournalist and frequent visitor to Portugal